How to Check my Glo Number
Check Glo Number – Below is the complete how to check your glo mobile number without asking anyone for it. 
Normally your 11-digit number is always located at a very noticeable area on the SIM pack. But sometimes, you may leave your sim pack at home because it's not possible to be holding it to anywhere you are going to neither anytime you are going out. 
Some people do have their number off by heart and memorizing it is always their daily prayers. Nevertheless, the battle is not for the strong nor the race for the swift as you may forget it at any point in time. 
READ MORE: Internet settings for Glo
 I can vividly recall that some days ago, When I went to Access bank to carry out a little transaction, a lady who wanted to open an account there walked up to and tell me to please give her my number so that she will see her number from my phone when she call that the bank account opening form requested for her number. 
Although I like her courage but that wasn't the solution at all. I was putting myself in her shoe and was wondering if I would have got such guts to do what she just did. 
However, I didn't give her my number to call, rather I showed her how she can do that all by herself without asking someone to help her.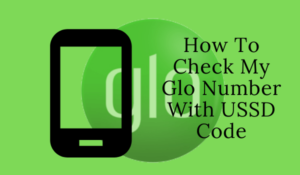 I showed her the glo mobile number checker USSD code of which she used and it works like magic for her. She was over excited.
Telling me thank you sir for more than 5 times. 
I know that some of you out there may not know about this magical code, but with the help of this article, you will get to know the complete steps on how you can check your glo mobile number using the USSD code. 
I know that there was a particular USSD that was earlier use in checking glo mobile number with your phone, but it seems as if it's not working any longer and that's why I have decided to update you guys with the newest code you can use in doing this. 
Here, I will leave you with the three working method of checking your glo mobile number and I strongly believe that you will find this useful. Continue reading. 
READ MORE: How to Check Your GTbANK Account Balance
Easy Methods to Check Your Glo Number
Alright, here is the anchor point of this article. As I said earlier that I will show three methods of checking glo number of which are; 
Using USSD Code

Via a phone call

Checking Online @

hsi.glo.com

.
#
METHOD 1: 
Using USSD Code
If you want to check your glo number using the USSD method, kindly dial *135*8# and send. After that, you will get a push up notification from glo containing your 11 digits glo number. 
#METHOD 2: 
Via a Phone Call
This is another fantastic way of checking your mobile number as a glo subscriber. All you need to do is to call: 1244 and at once, your phone number will be read out audibly by a programmed robot. 
NOTE: You have to hold a pen & paper or possibly another phone to pen down the digits that will be called out to you. 
#METHOD 3: 
Checking Online @ 
hsi.glo.com
.
Follow this process to see you glo mobile number on the glo selfcare website; 
visit 

http://hsi.glo.com

 

Once the website loads, scroll down and you'll see your Glo phone number displayed visibly in the format Welcome, 080*******.

 

If you are using PC, look at the right-hand side of your screen and you will see the number

 
NOTE:  
Using this method will definitely require an internet connection. However, this does not require a

 data subscription to get it done.

 
Please if this article was helpful, let us know by using the comment section below and don't forget to share. 
Remember: Sharing is caring 
.