Good news, Etisalat Freebasic services is now available so you can start browsing Facebook and some other websites free of charge with your Etisalat SIM without subscribing for data or buying airtime.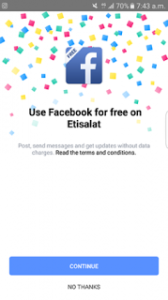 With this, Etisalat becomes the second Mobile network provider to support the freebasics initiative by Facebook/ internet.org.
This service allows Internet users from some select countries (Nigeria inclusive) to access popular web-
based services for free.
READ MORE: Cheapest and Affordable MTN Data Plans Bundle
In Nigeria users can access Facebook, FB messenger, supersports, nairaland.com, jobberman and lots of other websites for
Free on Freebasics.
To view full list of supported websites you can browse free, download the freebasics app or Alternatively, you can visit http://0.freebasics.com
I think this is a welcomed development as it will really go a long way to serve some people.
Although images are removed when using free basic but it's still manageable especially to read news and get information from sites like Nairaland whenever you run out of data plan
Free basic on Facebook is not that awesome because the beauty of Facebook is the pictures, video and other media stuffs.
So if you are okay with that, you can go ahead and use Facebook free of charge (without images).
It's now left for MTN and Glo to follow suit.
READ MORE: How to Check Your GT Bank Account Balance
If You Enjoyed This Post Please Take 5 Seconds To Share It.