If you are struggling with your laggy Android, then you are at the right spot. You can now speed up your Android device without Rooting. Go through the post to know how to speed up the Android device without Rooting.
Today there are more than billions of people who are using Android. Many people have a concern about slowing down their Android device as the device's speed gets slower with the time.
So today we are here to resolve that issue, there could be multiple factors that can be responsible for the slowdown of android speed like it can be due to low memory, RAM and any other problem like viruses and much more other factors.
Now with the methods that we have discussed in this post, you can comfortably Speed Up Your Android Device.
How To Speed Up Your Android Device Without Rooting

Steps To Speed Up Android Without Rooting:
There are many factors that can influence your Android speed. And the methods we are going to discuss here are for non-rooted smartphones. These methods are also for those who don't want to root their smartphone.
1. Manage Your Internal Storage
The major thing in an Android is its internal storage. It is the physical memory that an Android uses to store all the apps in it. So it's always better to choose an Android that is having perfect internal storage capacity and second thing is to manage your internal storage perfectly.
2. Remove Bloatware
If you have RAM above 2GB then you don't need to worry about bloatware. However, if you have less than 2GB of RAM then you need to remove the bloatware. It will show some positive effects on your smartphone efficiency. Therefore, make sure to remove the bloatware that you don't use.
3. Clear Apps And System CacheClear Apps And System Cache
You Android device stores the temporary files, cache in your phone's internal storage. If this storage space exceeds the standard limit then it can completely ruin your phone's performance. Since you need to clear your stored apps caches to free up storage space that might boost your Android's performance
4. Remove Unnecessary Widgets
Many of you like to use widgets on your Android device. However, you may be concealed to the fact that your widgets can be the reason of slowing down your Android speed. As these widgets occupy the space of Random Access Memory that is responsible for multi-tasking on your Android. So, it's better to remove all the unused widgets in your Android.
Also Read: 6 Tips To Reduce Your Mobile Internet Data Usage
5. Window Animation & Transition Scales
Every Android device has its own animation scales depending upon their qualities. These animations have many affect on your Android performance as they have loaded on both the battery and working.
So the better choice is to reduce them as much as possible. To do so, just Go to Settings->Developer Option->Windows transition scale->0.0. Do the same with animation scale.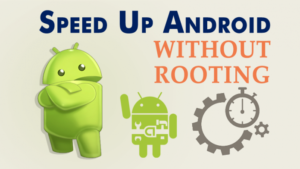 6. Update Firmware Of Your AndroidUpdate Firmware Of Your Android
A new firmware upgrade always comes with better updates that can fix all the previous bugs and can help your Android to perform better. So it's good to upgrade your Android to the latest version of your Android respective firmware. Also, you can upgrade it through yourAbout Phone option or you can flash the latest one in your Android.
7. Disable Auto SyncDisable Auto Sync
If you have connected lot's of accounts on your Android like WhatsApp, Snapchat, Gmail, Outlook etc then you need to disable the auto-sync feature.
The auto-sync feature reduces your mobile phone performance and it consumes lots of battery life too.
8. Remove The Background Running Apps
As we have already told that RAM is responsible for the Android performance and all the background and current running process works on the Ram so it's better to close all the apps running in the background.
Also Read: 4 Types Of Apps That Causes Your Phone To Misbehave
9. Using Apps To Speed Up Your Android
There are many apps available on Google Play store that claim to boost up your Android device. Not many of them are useful but very rare are there who do their work perfectly as you can use DU speed Booster & Cleaner which is trusted by 230 million users, DU Speed Booster is the only all-in-one speed booster, trash cleaner and antivirus app that optimizes your background apps, memory space, junk (cache) files and battery power.
Features Of DU Speed Booster:
One-tap Boost: A single touch to speed up your devices and release memory
The junk-creating behavior of millions of apps has been analyzed so that DU Speed Booster & Antivirus can efficiently hone in on its targets (cache and residual files) with perfect accuracy.Scan installed apps, memory card content, and new apps automatically.
Introducing the Charging Screensaver, to boost the charging speed by 20%.
10. Restore Phone To Factory Settings
If you have tried all the above-mentioned method and if all failed. Then you need to Factory reset your Android device.
Factory resetting your Android device clears all the cache and junk files, and it simply clears your phone memory.
All the data stored in your phone memory will be cleared in the process. However, you will notice the increase in the speed of your device after resetting your device.
Also Read: 10 Cool Internet Tricks You Didn't know About
#11 Use Startup Manager
Get it Noe
Startup Manager (Free)
Developer: IMOBLIFE INC.
Price: Free
You all might have experience lag during startup. Well, this is because all the apps installed on your device starts at the same time which consumes lots of RAM.
You can use free app Startup manager to enable and disable the item that lots while you turn on your Android device.
Also Read: Top Artificial Intelligence Apps For Your Android
#12 Android Launcher
Sometimes, outdated devices lag a lot. Users can experience slow down or sudden crash while opening App drawer and while scrolling through the home screens. Any third party launchers can fix the issue for you because third-party launchers are frequently updated.
#13 Using MSAA settings
Well, this feature comes pre-loaded with Android. Users need to enable this option from Android developer options. MSAA stands for multi-sample anti-aliasing.
Users need to search for "Turn on 4x MSAA" on developer option and enable it. However, must remember this feature is very useful for games. If you run High-end games and your system lags, then this function will be helpful. However, this can drain your battery faster.
#14 Use CCleaner
Get it Now
CCleaner
Developer: Piriform
Price: Free+
The reason why we recommend you to use CCleaner is that this app helps a user to remove junk, reclaim space, monitor their system and browse safely.
You don't need to go through every app to clear the cache manually. CCleaner is the best app which can improve your phone performance in one touch.
#15 Timely Reboot
Well, most of the users forget to restart their phone and leave it on for 7-8 days. Well, this is what causes a device to lag.
Users must restart their devices every day at the particular time because of it clear all saved junk of the apps.
Also Read: Top 5 reasons Why Your Smartphone Battery Is Draining Fast
So this is all about Speed Up Android Without Rooting. By following all these, you can easily boost up your Android speed without rooting, and there will be no need to void warranty.
So just follow up all the guides above to speed up your android. Don't forget to share this useful post with your friends.