One of the few skills you should learn during this period is how to create a valid email address in Nigeria.
This is because the world is fast changing and it's so easy that you can even open an email account on your mobile right now.
How do I create an email address for myself?
Not to worry, we'd be walking you through the step below. Stay tuned and pay attention. Let's first check out the many benefits of email account to travel, academics, business, governance and normal activities in Nigeria.
Benefits / Advantages of Email
Now, email address appears to be one of the major means of communicating in the modern world.
Delivery of emails is almost immediately. Where a message does not involve an heavy attachment or the internet speed of the receiver or sender is not really-slow, email delivery is often almost instant.
A normal delivery of letters or mails could take longer, days, weeks or even months in Nigeria. The same also applies to other countries.
Spelling and Grammar checks
Email is digital and a lot of platforms you would normally type your messages on often include a form of auto-correct, spell-check or even Grammar check.
You can be more professional by making the most use of these tools readily available to you.
Another benefit of a valid email address is that you can share the message to multiples recipients at the same time.
READ MORE: Xvideostudio Video Editor APK Download
How to Create a Valid Email Address in Nigeria
To master how to open email account on mobile phone or device, simply visit any of the free email account providers listed below and click on "sign up" or "create an account" and follow the steps.
Outlook.com: formerly called Hotmail, this service is operated by Microsoft Inc – the leading American software giant.
Gmail: the service engine giant, Google, also offers a free email service. Opening a Gmail account gives you access to a Google Account that can be used for other services offered and not offered by Google.
Alternatively,  Hosting plans offered by web hosting companies also comes bundled with email services.
How to Login to Yahoo Mail, Gmail, and Live Mail
To login, you can visit any of the multiple provider's websites to access your email or you can configure the email client on your gadget or device, whether you use a tablet, laptop, smartphone, or make use of a PC, you can easily configure any of them to view and see your messages.
How to Use Your Own Domain Name with your Email
Are you a blogger, or online business owner? You can boost trust in the eyes of your customers and email profile by using your own name or company name, as the handle to your professional email that ends with @ yahoo.com, @gmail.com, or consider an address that ends with @yourdomain.
For instance, [email protected]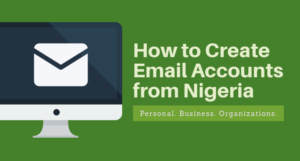 How to Create Email Accounts for Your Business
It is super crucial to potray a professional image of your business because this impresses the would-be clients that are serious minded.
It also makes sure they take your offering serious. A free email account, at times, may not be ideal for your business.
The free email service provide advertisement in the messages and could be scanning your messages to show you contextual ads that pops up when you scroll through your messages.
You should pay the fee for email services if you are in a sensitive industry that mandates your client's records be managed carefully.
Besides, some industry regulations mandate that your email is hosted in your own country.
Where this is this case, you can buy Web Hosting in Nigeria . Many offer you the option of choosing Nigeria as the location of your email services. Other available locations include Ghana, Kenya, South Africa, and Europe.
To create email accounts for your business or organization, simply visit their Web Hosting page to order for the plan that fits your needs.
FAQ
What is The Best Email Account?
Where the email is mean't for business, the best account is one branded with your own domain.
For instance, your domain is zeezymakeup.com and your email could be [email protected]
How to open an email account on Phone?
Just sign-up for a web hosting account HERE. The service comes with email accounts by default.
And that is how to create a valid email address in Nigeria for free.