How to Check if Your Car Plate Number is Original – Website
It has been noticed that the rate at which people produce fake number plates (plate number) is on the increase and the Federal Road Safty Corps (FRSC) with collaboration with members of the Nigerian Police Force is doing everything possible to stop this act .
These days, most of the plate numbers you see on many vehicles are fake but there is a way to check or spot fake plate numbers .
How to identify fake number plates
If you go to many Nigerian states today especially the major cities like  Lagos,  Abuja , Kanu , Port-Harcourt e.t.c out of every ten cars you see running on the road atleast four of them are wearing fake plate numbers .
Needless to say, the production of fake plate numbers is done by some terrible FRSC officials .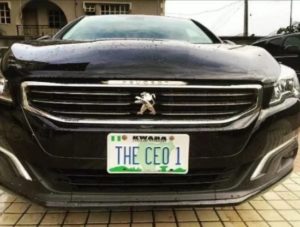 TRENDING: What is Nigeria's ZIP code — Zip code for Nigeria
Check The Authenticity Of Your Plate Number
The major cause of this problem is because most car owners don't like to stress themself by going to the right place to complete their plate numbers registration , they would rather prefer to pay some persons to do the plate number for them and most times they end up having the fake plate number.
This is because they person the gave money for the plate number want some part of the money to go to his or her pocket . Nevertheless, there is a way to identify a fake plate number .
We created this post to teach our readers how to check if your car plate number is original or how to confirm your vehicle plate number .
If you go through this post completed then you should be able to identify fake number plate or plate number .
This is How to Check if Your Car Plate Number is Original
Follow the simple and short process below to know if your vehicle plate number is original, authentic or fake
STEP 1. With your internet enabled mobile phone or PC go to www.nvisng.org/numberplateverification.aspx
STEP 2. Enter your number in the space provided for you and don't give space . Eg "ABC835AP
STEP 3. Click on verify button.
Then an information about your car will be displayed below the button. Because FRSC did not want the general public to see the full details of the registration, you will only see the name of your car and the date of registration. When i checked for my car today it only says "This number is valid and has been assigned to Camry" because my car is Camry .
TRENDING: Nigeria Postal Code — Postal Code for Nigeria States
Please there are thousands of persons that need this information , don't forget to share this article .