Like you, many have been looking for ways on how to cancel auto renewal on Glo network. Welcome to GNN – Home of Tech.
Today, we shall help you fix your problem!
Many a time, automatic data renewal can be a pain in the neck, especially when your credit or airtime was deducted without prior warning.
Many call Glo a fraud for this act but the brand has explained how useful enabling automatic renewal can be.
One of the benefits is that you enjoy double the size of your original Glo data plan when you enable this feature.
However, I'm sure many of you still do not find the benefits appealing and that is why you are here.
Glo has also provided you with a way to disable/stop your active Glo data auto-renewal using a simple SMS code on your mobile device.
So without further ado, let's learn how you too can cancel Glo auto renewal feature
READ MORE: How to Speak with Gotv Customer Care in Nigeria
How to Cancel Auto Renewal on Glo Subscription [Code]
To disable Glo data automatic renewal on your phone (java, android, Symbian etc), you should take the following steps:
Go to your message app » then Type and send 'CANCEL' to 127 while the plan is still ACTIVE » You will receive a reply showing that you've successfully opted out of Glo data auto-renewal.
That's pretty much it! Congratulations! You've just successfully cancelled or disabled auto renewal on Glo using that easy method.
But…
If the method fails for you, then you should consider reaching out to Glo customer care line through "121" for complaints.
Just dial 121 and they will attend to your problems.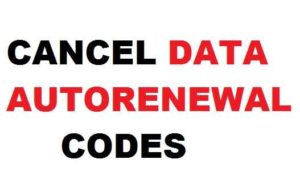 READ MORE: How to Activate MTN Beta Talk for Free
Using the comment section below, you can leave us comments or questions if you have any on how to disable auto renewal on Glo subscription.
That's all the steps you need to follow in this how to cancel auto renewal on Glo subscription plan guide.