Unveiling the Apple Vision Pro: A Comprehensive Guide to Apple's Augmented Reality Headset
At the highly anticipated WWDC 2023 conference, Apple unveiled its revolutionary augmented reality (AR) headset, the Vision Pro. This long-awaited device represents a significant leap forward in AR technology, promising an immersive and interactive experience like never before. Alongside the Vision Pro, Apple introduced visionOS, a purpose-built operating system designed for spatial computing. In this comprehensive guide, we will delve into the intricate details of the Vision Pro, exploring its design, advanced features, software capabilities, and availability.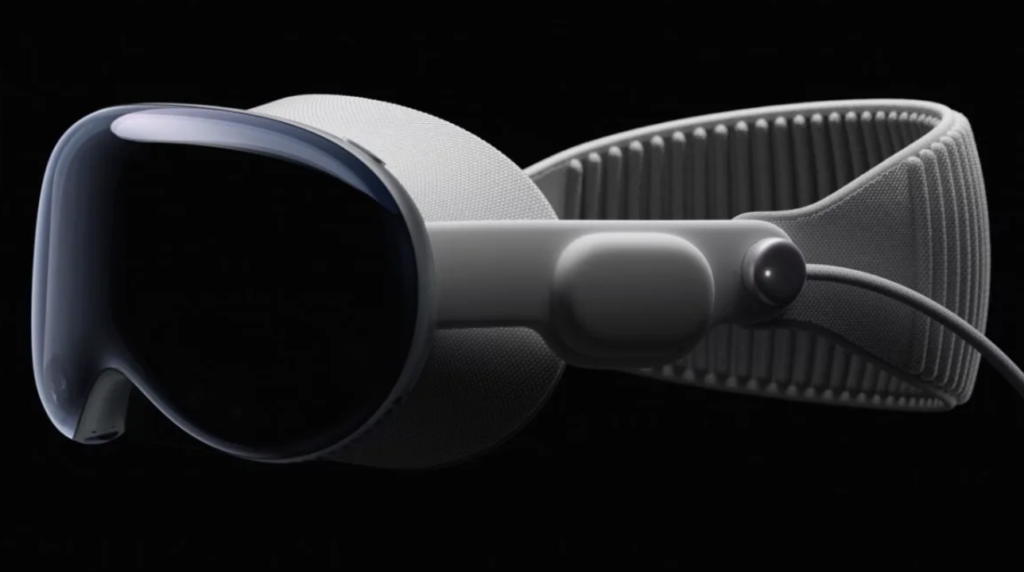 Design and Comfort
The Vision Pro boasts a sleek and ergonomic design inspired by high-end ski goggles. Its chassis features a continuous front panel that wraps around the wearer's eyes, acting as a lens and concealing a built-in fan to ensure optimal cooling. Additionally, the headset offers interchangeable bands for a customizable fit, while magnetic lenses cater to prescription wearers, ensuring a comfortable experience for all users. Apple's collaboration with Zeiss in creating these lenses highlights their commitment to accessibility and user satisfaction.
Display and Optics
The Vision Pro's display system is a standout feature, consisting of dual displays, one for each eye, with an impressive total of 23 million pixels. This high-resolution visual experience, combined with a custom 3D lens, ensures that the user interface remains consistently visible and aligned with the wearer's field of view. Furthermore, the inclusion of HDR (High Dynamic Range) and "wide color" support enhances image quality, providing vibrant and lifelike visuals.
Advanced Tracking Capabilities
To enable seamless interaction, the Vision Pro incorporates a range of sensors. Internally, infrared (IR) cameras track the wearer's eyes, while exterior cameras track hand movements, enhancing the overall user experience. Moreover, lidar sensors situated around the headset enable real-time tracking of objects in the surrounding environment. This comprehensive tracking system, consisting of 23 sensors in total, including cameras, sensors, and microphones, feeds data to the innovative R1 chip.
The R1 Chip and EyeSight
The R1 chip, developed by Apple, is the powerhouse behind the Vision Pro's performance. Designed to eliminate lag, it enables lightning-fast image streaming to the headset's display, surpassing the blink of an eye. In addition to its processing capabilities, the R1 chip enables EyeSight, a unique feature that projects a live feed of the wearer's eyes onto an external display. This creates a captivating transparent effect, allowing others to see the wearer's eyes while wearing the headset.
Introducing visionOS
VisionOS, the dedicated operating system for the Vision Pro, marks a significant milestone in Apple's AR ecosystem. It is the first OS designed explicitly for spatial computing, offering a three-dimensional interface that frees apps from the constraints of traditional displays. By dynamically responding to natural light and casting shadows, visionOS enhances the sense of scale and distance within the AR environment. Developers, including Adobe and Microsoft, have already committed to creating apps for visionOS, further enriching the user experience.
App Store and Entertainment
To complement the Vision Pro's capabilities, Apple has introduced a brand-new app store specifically curated for AR applications. Users will have access to a range of apps, including popular titles from Apple Arcade, ensuring a wide selection of immersive experiences. Additionally, visionOS supports FaceTime, allowing users to create 3D avatars of their faces for engaging video calls. Furthermore, other video conferencing platforms like Teams, Webex, and Zoom will also support 3D avatars, fostering enhanced communication and collaboration.
Purchasing the Vision Pro (Apple Vision Pro)
While the Vision Pro is undoubtedly an exciting innovation, it won't be available until "early next year." The price of $3,499 may be steep, but Apple aims to provide a premium experience by offering in-store demos and personalized fittings. This approach ensures that customers can make informed decisions and have a hands-on experience before committing to the purchase.
Conclusion
With the introduction of the Vision Pro and visionOS, Apple has once again pushed the boundaries of AR technology. The headset's sleek design, advanced tracking capabilities, and high-resolution displays promise a truly immersive AR experience. Supported by the powerful R1 chip and visionOS, the Vision Pro unlocks a world of possibilities for developers and users alike. While the release date may still be on the horizon, the Vision Pro is poised to redefine how we interact with augmented reality. Apple's dedication to customer satisfaction shines through with personalized in-store experiences, solidifying their commitment to delivering a premium product. As the Vision Pro awaits its official launch, anticipation builds for the next era of augmented reality.
Also See: Using iPhone's New Check In Feature: How to Inform Friends You've Arrived Home Safely [2023]
FAQ:
1.  When will the Apple Vision Pro be available for purchase?
Ans: The Apple Vision Pro is expected to be available "early next year."
2. How much does the Apple Vision Pro cost?
Ans: The Apple Vision Pro is priced at $3,499.
3. Can I try the Apple Vision Pro before purchasing it?
Ans: Yes, Apple is offering in-store demos and personalized fittings for customers interested in the Vision Pro.
4. What is the battery life of the Apple Vision Pro?
Ans: The Vision Pro's battery pack provides up to two hours of use. Alternatively, users can connect the headset to a power source for an extended experience.
5. Can the Apple Vision Pro be used by people who wear prescription lenses?
Ans: Yes, the Vision Pro features magnetic lenses developed in collaboration with Zeiss, allowing for easy customization for prescription wearers.
6. What is visionOS?
Ans: visionOS is the dedicated operating system designed for the Apple Vision Pro. It is specifically tailored for spatial computing, offering a three-dimensional interface and a wide range of AR applications.
7. What kind of apps can I expect on visionOS?
Ans: visionOS will feature apps from major developers, including Adobe (Lightroom), Microsoft (Office), and many more. Additionally, the Apple App Store for AR applications will be available, along with a selection of Apple Arcade titles.
8. Does the Apple Vision Pro support video conferencing?
Ans: Yes, the Vision Pro supports video conferencing platforms like FaceTime, Teams, Webex, and Zoom. Users can create 3D avatars of their faces for engaging and immersive video calls.
9. How many sensors does the Vision Pro have?
Ans: The Vision Pro incorporates a total of 23 sensors, including cameras, sensors, and microphones, which provide advanced tracking capabilities for eye and hand movements, as well as real-time object tracking using lidar technology.
10. Is the location sharing feature of the Apple Vision Pro real-time?
Ans: No, the Vision Pro does not share location in real-time. However, if the user fails to arrive home within the estimated time, their current location, route, and device information can be shared with selected contacts.
Please note that the information provided in this FAQ is based on the details available at the time of writing and is subject to change as Apple releases further updates and announcements regarding the Apple Vision Pro.