Knowing how to migrate to Mtn yafun yafun tariff plan has been one of the blessings this season brings to us.
The Mtn Yafun Yafun plan is a special tariff plan that allows mtn subscribers benefit from free bonus. The MTN YY data plan is also available to only new MTN subscribers as default tarrif plan.
This MTN stack plan allows newbie Mtn subscribers to enjoy 700% value added bonus on each recharge. That means that if you recharge N500, you will get N3,600 as your new credit balance and if you load N200, you will enjoy N1,200.
Mtn YafunYafun call rate is also good. If you are an internet geek, you will enjoy MTN 700% data bundle code when you activate the MTN yafun yafun data plan code.
This article today covers all you need to know about MTN yafun yafun call rate, mtn stack plan for data code, how to migrate to MTN 700% bonus data plan, data plan code and lots more.
How To Migrate To MTN Yafun Yafun Tariff Plan
Bad news is that you cannot migrate to MTN Yafun Yafun tariff plan, but it is only available to NEW MTN USERS. The plan by default is available to every new MTN user and will lasts for 3 months only.
To access this Mtn Yafunyafun plan code, simply follow the steps below:
Buy a new mtn sim card
Register and activate the new sim card
Viola! That is all you need to do. Now enjoy all the bonuses of Yafun Yafun tariff plan code.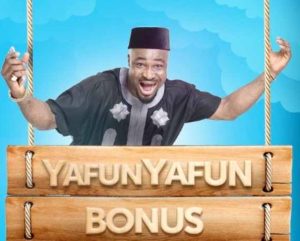 How to Dial the MTN Yafun Yafun Data Code
For this, MTN did not really state a single data plan but you get to enjoy loads of data bonus. With MTN Yafun Yafun, you enjoy cheaper data bundle cost with bigger data and still get double the value of each of your data subscription.
To benefit from the Yafun Yafun data bonus code, follow the steps below:
Buy a new SIM card from any MTN store
Register and activate the newly bought sim card
Recharge the new number and you will be automatically migrated to Yafun Yafun
Next, Dial *131*1*1# and choose "5" (2GB for ₦500) Validity period is 2 days
Remember that one of the advantages of the Yafunyafun plan is that you'll get double of all data plans for the next 3 months. So enjoy double of the MTN Binge bundle while it lasts.
Also, bear in mind that MTN Yafunyafun PLAN is only available to new MTN users  and the first step to getting started is registering a new SIM card.
It often costs less than ₦500 and your SIM card will be activated in less within a day. You'll also be instructed by the agent to make calls in less than 24 hours after activating your SIM card to avoid losing it.
READ MORE: How to Download Movies from O2tvseries Site
MTN Yafun Yafun Tariff Plan Code
As earlier stated, the MTN yafun yafun code can only be accessed by new MTN lines.
To enjoy, go get a new MTN line and remember, the benefits keep coming until the third month,
After the third month, your line will be automatically migrated out of the plan back to better talk tariff plan.
Note: As soon as you migrate out of this plan, you cannot go back there even if you bought the SIM few hours to the migration.
Benefits of The Tariff
Enjoying 700% valua added bonus on EACH recharge
10MB allowance on every N200 recharge valid for 2 days
Free access to WhatsApp weekly, lasts for 3 days MTN Yafun Yafun
You will be able to browse and download with the other 200% bonus
MTN Yafun Yafun Call Rate
MTN yafun yafun call rate is cheap too. You will be charged only N40 each minute per one voice call you make. SMS charges is N4 per SMS which is the same as that of ever other MTN tariff plan.
This costs will be deducted from the bonus account, you will be charged N4 per minute and N12 per SMS. So, ask yourself if it is something you like.
READ MORE: Steps to Check My BVN
Remember, you can always reach out to the MTN customer care line if there's anything confusing and hard to understand.
To call the customer for further inquiry, you may dial 180 or visit any MTN connect store or MTN walking center close to you.
That is all you need to know for now about how to migrate to MTN Yafun Yafun plan, for further questions or contributions please use the comment section below, we will do our best to answer it.